Marrakech
Our trip is halfway through when we meet two other riders who have the same destination as we have. From now on there will be four of us heading towards Marrakech in Morocco.
We spend our first day of rest in Tangier. We explore the city and drink lots of freshly squeezed juices. A young local who introduces himself as 'Marlboro Mohamed', offers us to be our city guide. We are not keen on that. But it takes quite a while until we can make this clear to him. Ultimately, he leaves us disappointed, expending some money as consolation. In the evening we eat our first Tajines over the rooftops of Tangier. In a vessel which is called Tajines you'll be served a great variety of stews. Very delicious! This evening the polite waiter offers us some marijuana for tea. As athletes we stick to sweetened black tea.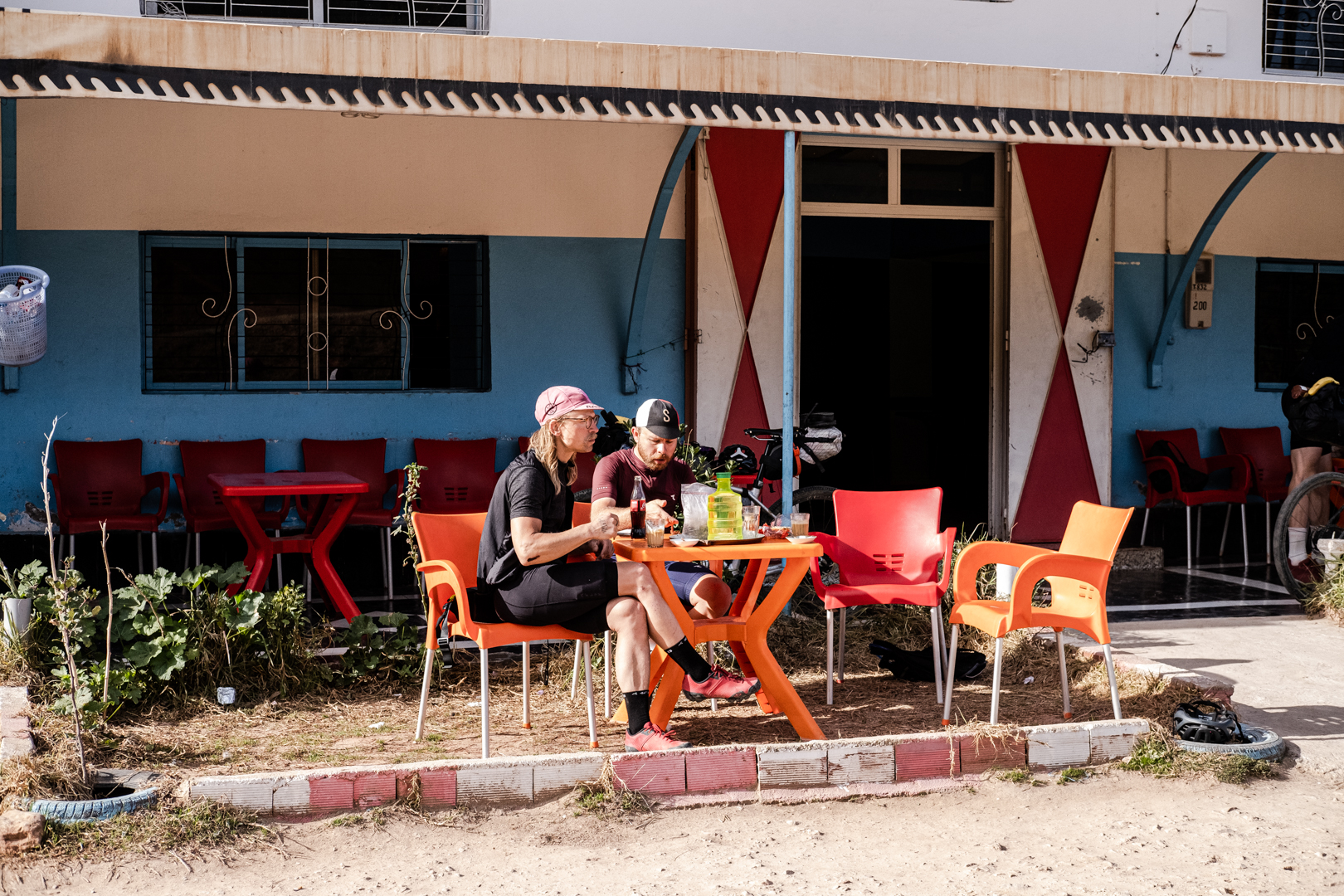 Our next stage should start early. But what has not worked out too well with two people, got worse with four different characters. "We only eat a little something" developed into a 45 minute breakfast. This for me unusually heavy breakfast makes the first few kilometers a bit tough. But I don't want to to complain after our first kilometers, so I'll just let it happen. As soon as we have left the city of Tangier behind, we cross a small river. It is not too deep and the flow not too strong. So it is fun to cross it. From there it goes for an indefinite distance over sharp-edged and rough terrain. Fortunately we don't have a flat tire but at some point it will be so technical and dangerous to ride that we decide to push up the steep hill.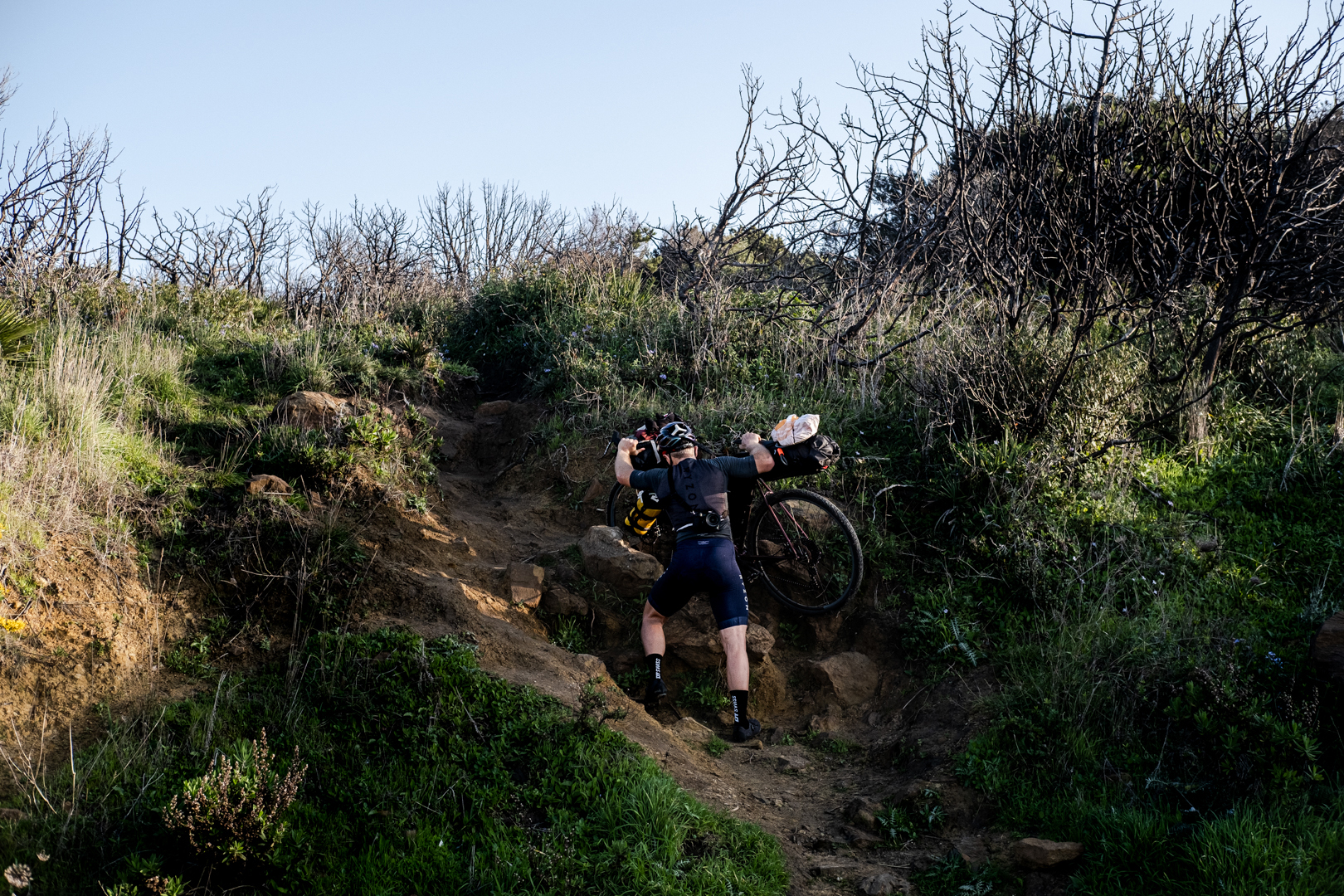 The cleverness of our decision doesn't make it is no less strenuous. And these doubts rise in me again. Will we finally make it? For how long will this path, which had been marked as well rideable be in this state? In the remaining 8 days we still have another 1000 kilometers to go. At the end of the Hike a Bike section, a well-developed road, a donkey and a kiosk await us. Cola and dates are now just right for us. And by the way. That's exactly what is available. Not more and not less. The way here had unsettled us all a bit, but it can't be changed and so we ride on.
We ride further south uphill. The Riff mountains await us. If we had been better prepared, we would have known that it would be better to be a little careful here. Not because of the terrain but because some farmers grow more marijuana instead of innocent potatoes. But we don't get into trouble.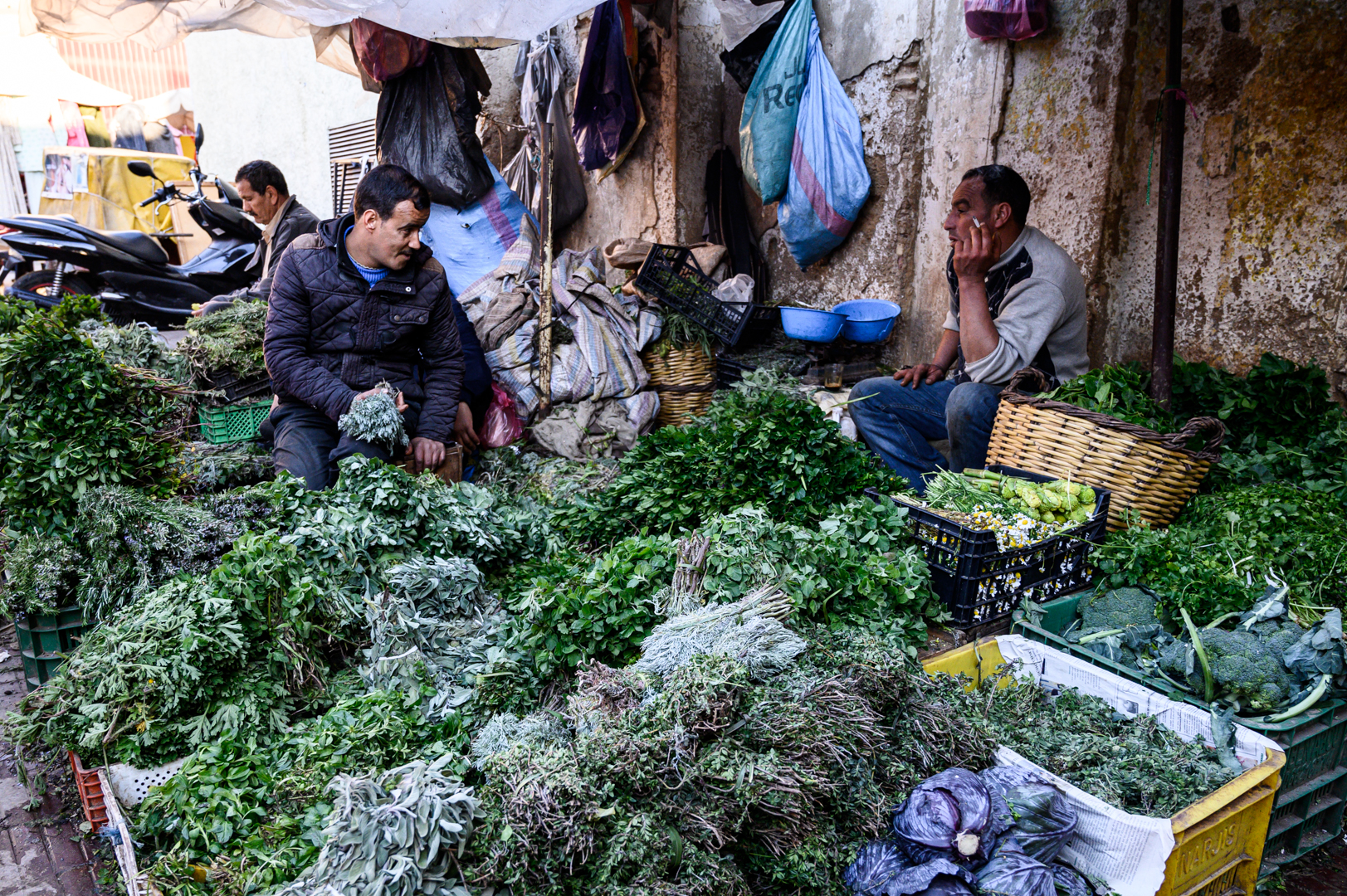 We pass sacred springs, enter a grocery store through a window and we pitch our tent in the light of the moon. This night we just make some snores and continue our tour before sunrise. We thought to be silent. But we were mistaken. Against our own free will we attracted the attention of some local dogs.
They rushed after us and helped us to get up the mountain pretty quickly. On top of that hill, Nico rides towards a couple, which called Mary and Joseph to my mind. Just arisen from the ancient biblical text! Their 'Salām' brought to me matches our situation wonderfully. It's really peaceful here. But all of a sudden some watchdogs make clear to us that our time for a break has not come yet. But barking dogs seldom bite.
Of course, not only do I remember the beautiful days on the road, but also the encounters. I remember a couple in Moulay Idris during one of our first days in Morocco. Without expecting any benefit, they warmly welcomed us to their home. They cooked for us and while the fresh bread and Tajine were being pushed into the stone oven, we were led through a little oasis, their garden. Our hosts lived completely independent. They planted everything they needed to eat. Bees for the honey, mint for the tea, potatoes for the Tajine and a fountain for the water. Everything was handmade and everything as fresh as possible. We communicated by using our hands and feet, spiced up by our extremely limited French. But everything was so warm-hearted, that the words were less important than being together. Late in the evening we sit on the terrace, drink tea and look across the fields to the next stage to come, the Atlas Mountains.
Every day reveals a completely new landscape and challenge. Despite the kilometers we feel in our legs and nerves, the joy I get from cycling and our common tour is decreasing day by day. And though I am no fan of inflationary use of words like epic and breathtaking I find no alternative here! There are the canyons awaiting us behind the next bend, descents with a more beautiful swing than you can imagine and distances, that reach the horizon. Really, really breathtaking!
We have everything to spend the night outside without freezing or getting sick. But oftentimes bump into people, who take us in. For very little money we get a delicious meal, always a little tea, a bed and a shower, not always warm but always wet. In general, the meaning of luxury changes more and more during this trip. Nico and I talk a lot about life and issues that concern us. Among other things, it is also about luxury. We both agree ,that it has nothing to do with gold watches, but that we have the opportunity to ride a bike and call it vacation.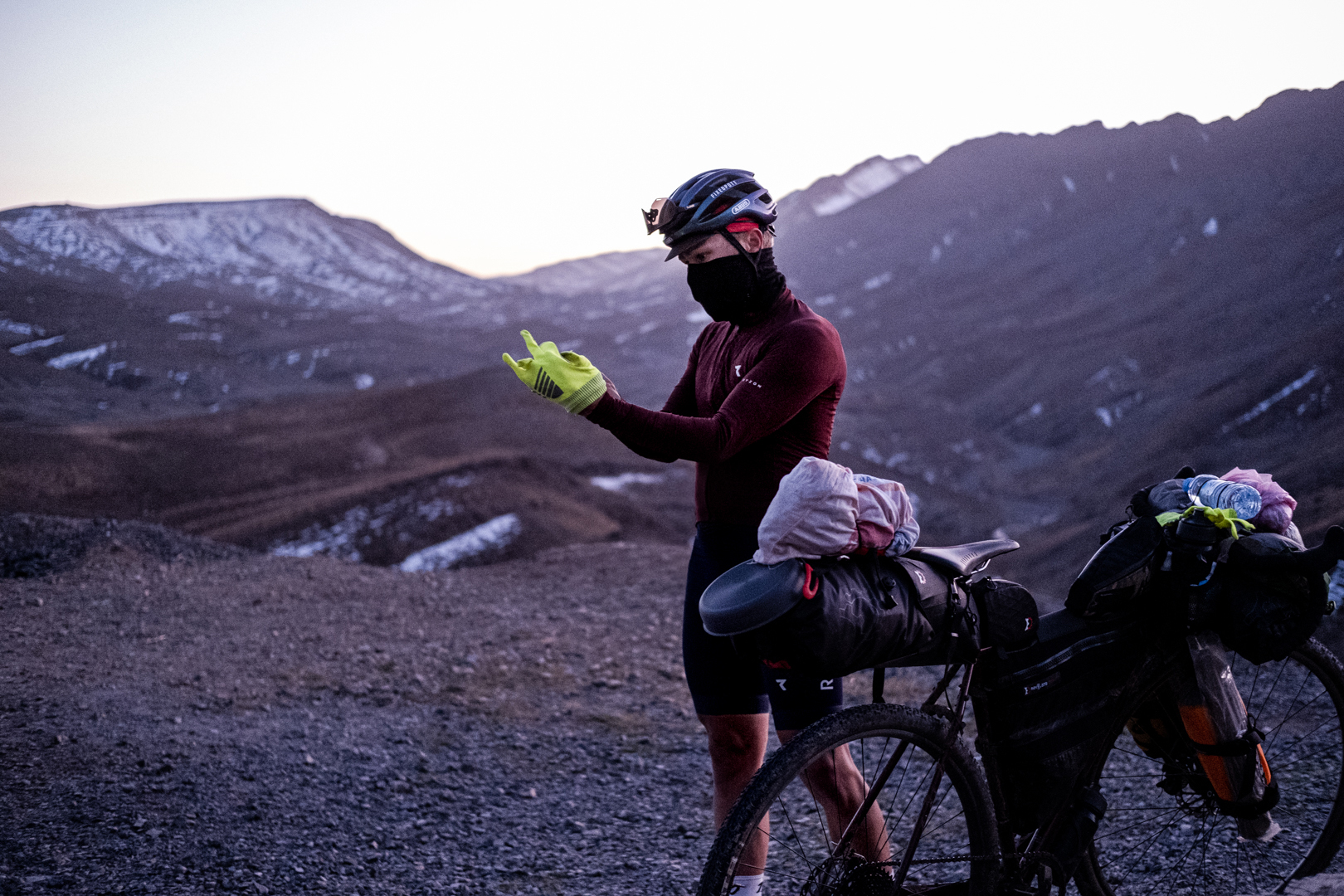 The queen stage demands everything from me. Our new friends chose to be taken by car, while Nico and I climb up to 3000 meters to cross a pass in the mountains. "Only two kilometers left" Nico calls out to me again and again. I'm almost finished and need his encouragement urgently. But I do not believe him. These two kilometers must have been maybe ten times as much! The air is freezing cold. The stars in the sky are reflected on the lake far below us. Not only have the stars sparkled at us. Finally the warm light of a hostel comes into sight. It's simple, but we can cook there and have a warm bed. We are happy to have made it. It wasn't about conquering the mountain, which is neither possible nor what it is all about. We were allowed to go up to the mountaintop and we were able to get get into contact with new aspects of ourselves. There are things in life that are best experienced in the here andnow. They are neither photographically tangible nor are they ever as beautiful and real as they are at this very moment.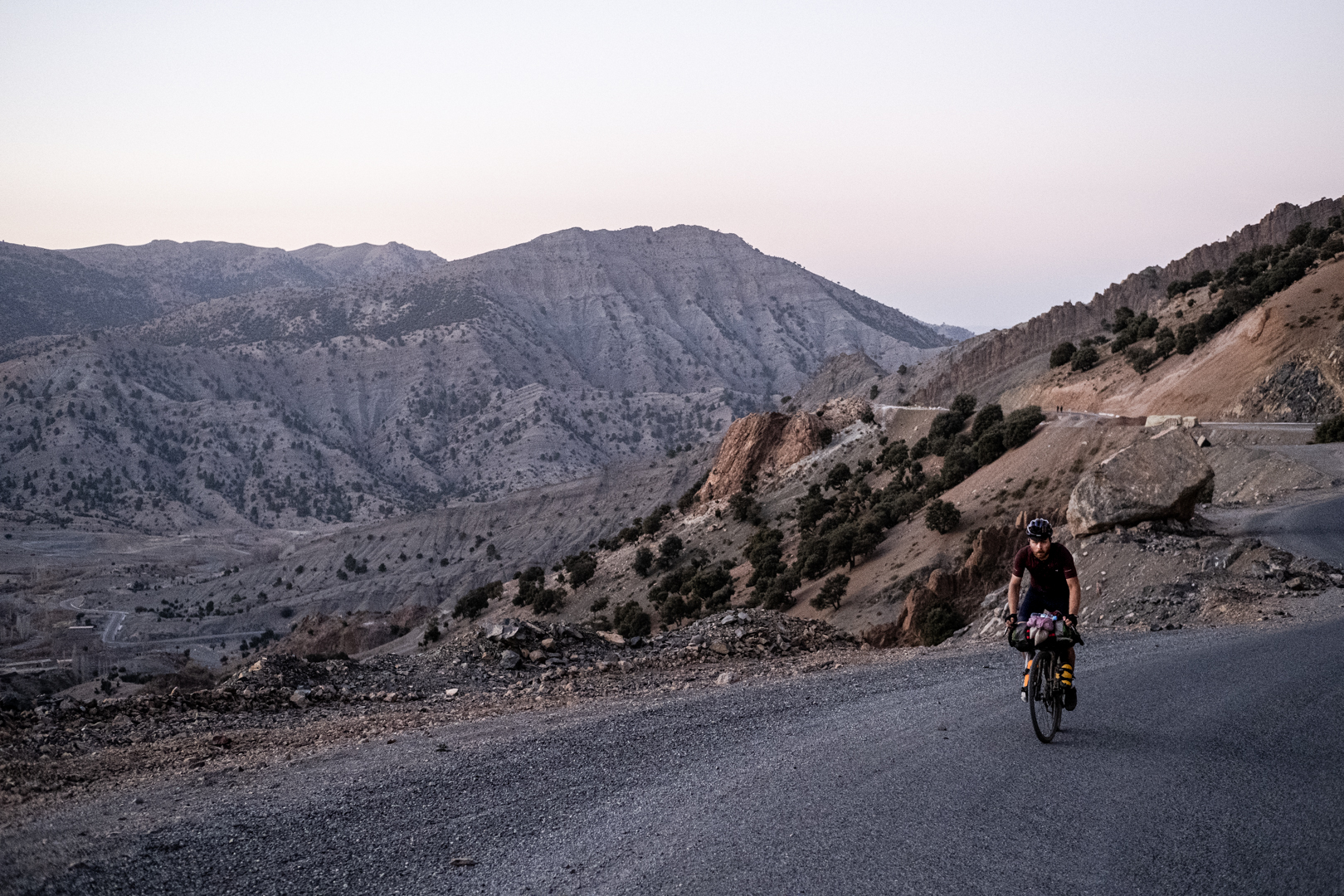 We climb the mountains together but during the climb my strengths wane. It takes my full concentration and skill to hold on track and avoid falling down the cliff and end up in a wheel chair. I am exhausted and mad at my mates. Of course they can't help it, so I get mad at myself because of losing my self-control. Nonetheless we made it to the top where I had to realize for a moment how ridiculous I behaved. Because I'm not the best company on this occasion, I decided on taking the vanguard and ride ahead of the other guys for the next few kilometers. Riding fast over scree is a good tool to overcome my own resentment and of course to get downhill. My mood has long since improved again. But then theer is a ne emotional peak. I have never seen such a descent! From the top, the serpentine looks like an asphalt road. But the rain pulled deep furrows into the surface. Coming closer I am realize that the surface is no asphalt but loose and coarse gravel. The curves of the road run through the entire mountain range. When we reached the bottom, we were through and through tired and the dates we had bought some hours before were used up.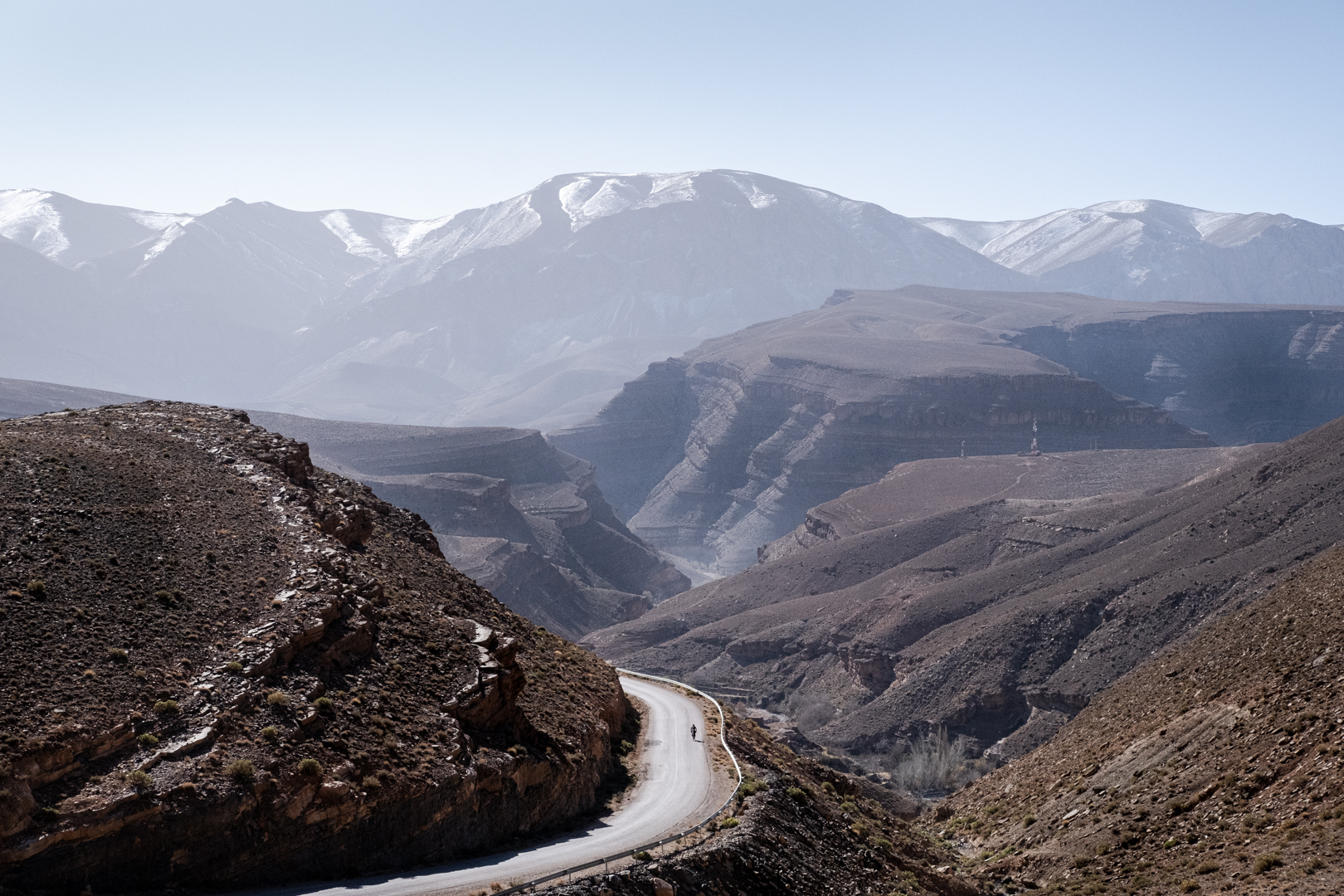 In the next village we pass many small groups of houses which appear to be threatening due to the dim light of the setting sun. The next small town is still thirty kilometers further down the road. Until then there is no way to camp wild. Fortunately we discover a small kiosk. There we put on all the clothes we have, drink cola and eat some cookies. It is now completely dark and only a fine veil of the sun gives a little light. The temperatures are now just above freezing, so we don't stay there any longer.
The fact that we still have some kilometers to ride under these circumstances is not very motivating. Another 10 kilometers later, a sign with peeled-off letters indicates, that we could also stay here; we don't have to think for long. The family who runs this accommodation could hardly be more cordial. We get bread and a huge Tajine with an omelet. The shower is cold until the master of the house taps into the neighbor's gas cartridge. From then on the water steams. Before I get cooked alive, I step out of the shower and hop into my bed. We arrive at the Dates Canyons in the High Atlas. A view that reminds me of one of old western film or Indian Jones. But the scene is real and we enjoy every curve of the descending switchback.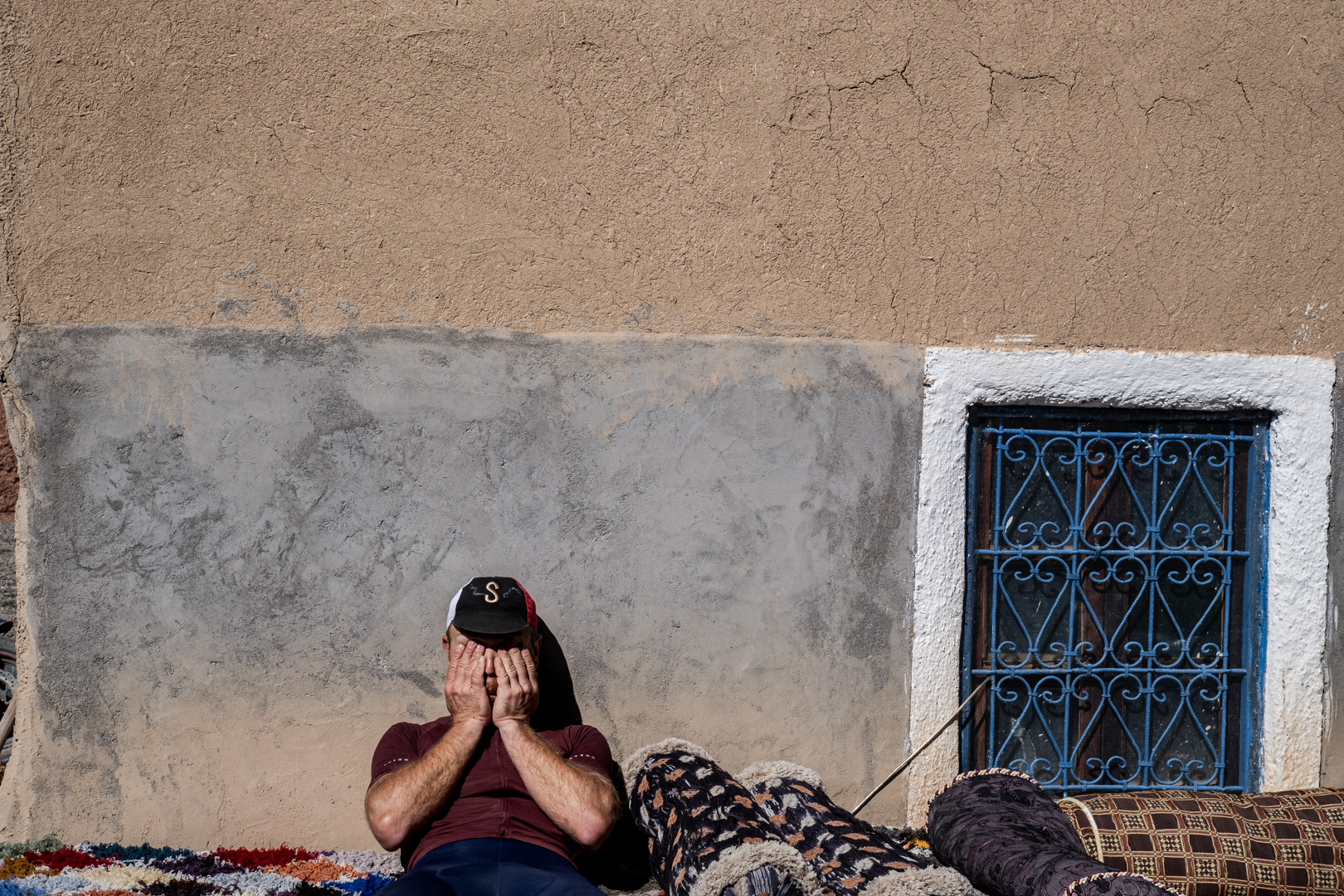 We are getting closer and closer to Marrakech and we notice that the population density increases and so does the end of our trip. But we have not yet achieved our goal. Until then we have to ride another 250 kilometers. We share this fraternally. The starting point of our last two days is a Kasbah. In this type of fortress the Berber kings lived there in the distant past. These fortresses were built of clay. After attacks, these architectural masterpieces were easy to repair. We are lucky enough not to experience an attack during our stay. I only lose my memory card for the camera here, which I notice toolate. While we are back on the road for a long time and like true professional riders we practice the Belgian tourniquet the sincere and caring hostel father send a friend with my memory card to our next destination.
For the last stage we buckle down and ride through the vast plains of Morocco. We don't collect a KOM, but as a team we work great. And although we pedal hard, we enjoy every moment. We know we'll make it. It almost feels like a trip home. It's crazy how the landscape has changed in just a few days. Every day looks different and every single day was also the most beautiful one of all. We were just in the High Atlas, far from the so called civilization, and now we are riding past the Ouarzazate film studios.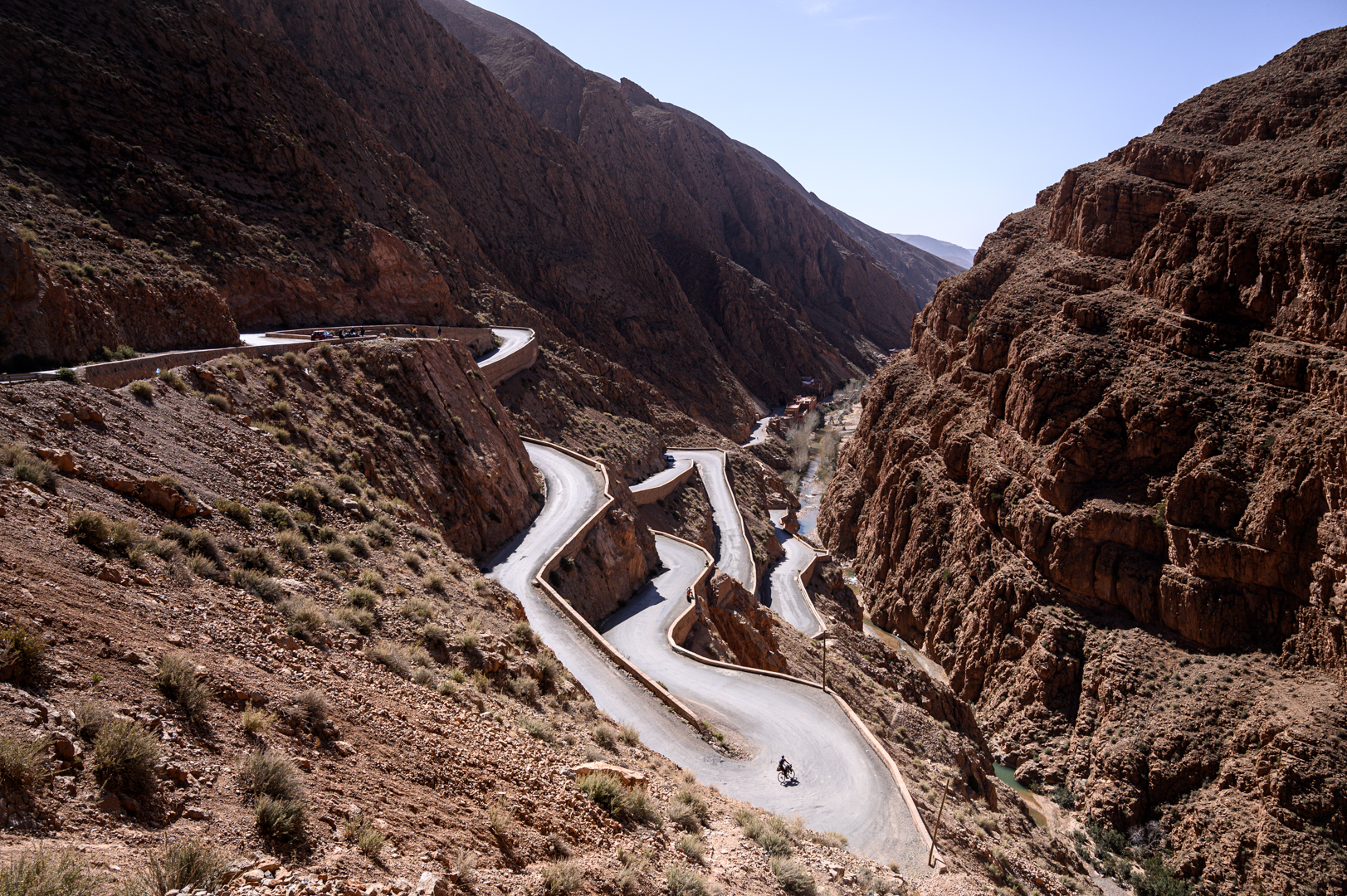 After more than two weeks and 1800 kilometers we reach our hotel in Marrakech. It feels surreal how time flies so quickly. Here in the former capital of Morocco, we can expect a bustle and an unrest that we never had to experience during the last two weeks. But our euphoria about having reached our goal outweighs the fact that this big city does not receive us warmly. This is about business and not about warmth. We are offered intrusive photos of chained monkeys and in the alleys of the medina it becomes as shady as the light that falls through the playfully arranged roofs. This reality feels wrong. In my heart I'm still on the road and I cycle in the beautiful mountain ranges of the High Atlas.