NOTE BEFORE YOU READ IT: We made this trip in late 2021, but we think it's great time to share this story with you now. Maybe we will motivate you to plan and run the same route this year.
Author: Michał Góźdź - ETNH.CC
Photos:Michał Góźdź & Katarzyna Jasińska
I began with the hypothesis that the Great Lakes Gravel race bike route would be the perfect choice for bikepacking. With my loose interpretation of it, I would stick to the main route but then boldly deviate from it to take in any attractions in the area that seemed tempting, all according to the holiday bikepacking formula.
What I remember from the start of the 2020 Great Lakes Gravel was the endless white gravel surrounded by green hills. Washboard roads, colourful cobblestones here and there, technically challenging singles along the lakeside, and the continuous flow of the racing marked by the flapping of the participants' jackets. Added to that the warm autumn, the misty mornings, the cold evenings, all the cows in the world and masses of birds. 480 kilometres. 2 days of racing... or a week of bikepacking away from civilization. It sounded like a plan.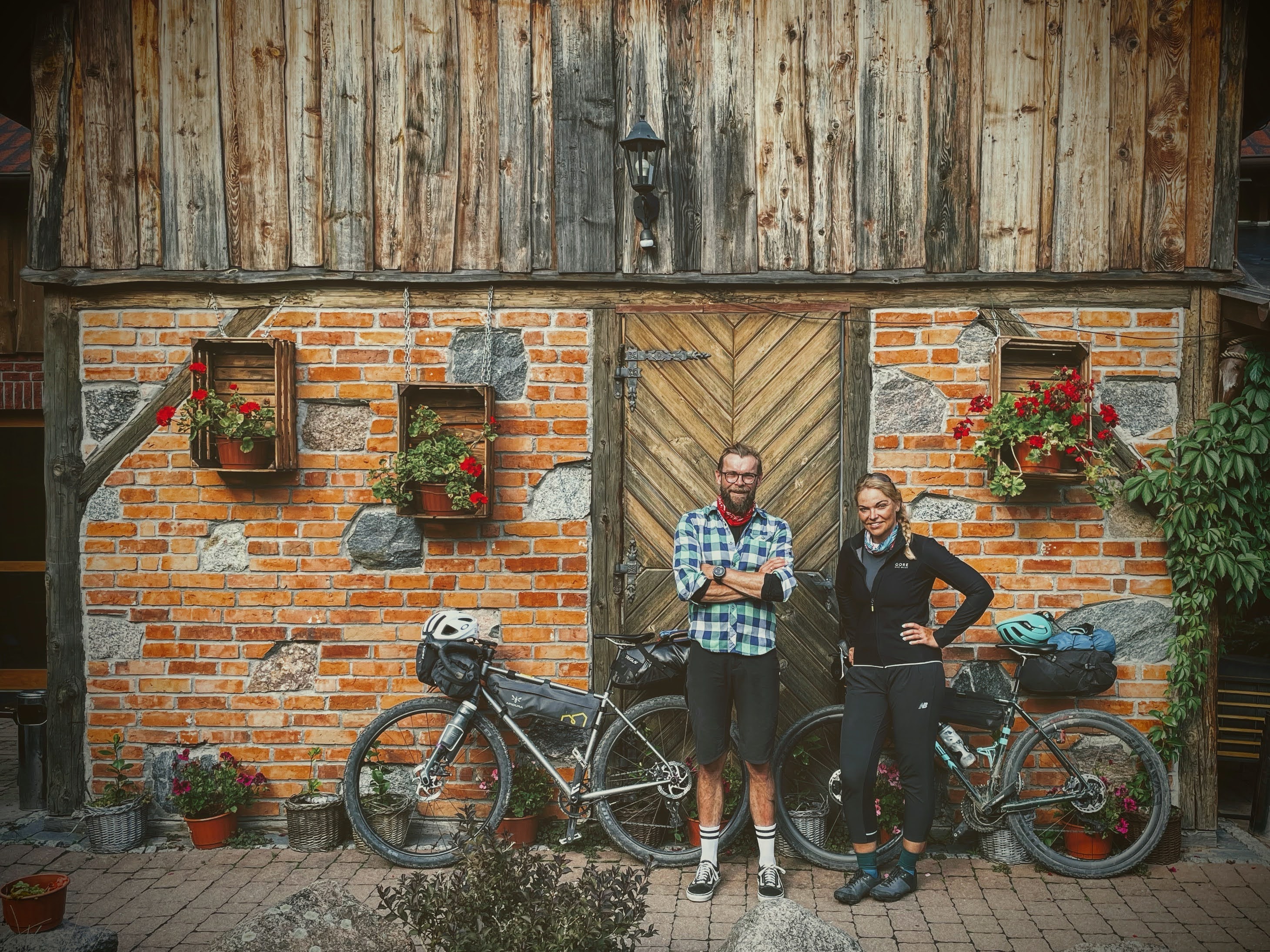 I undertook this endeavour to confirm my hypothesis described in the introduction in tandem with Kasia – who, as the best of wives, also knew how to bikepack. This experiment was also our vacation. For this adventure we adopted the following rules. First of all – avoid booking.com, taking instead what the road offers. Sleep in cool places. Get to know as many people and their stories as possible. Get close to animals and nature. Eat less and drink more. So that Jack Kerouac would be proud of us.
The shop closes at 1 pm. I would normally ignore this suggestion from google maps (because how can a shop be open only until 1 pm on a Wednesday?), yet still we clearly sped up to give ourselves a shadow of a chance of buying something to eat. For the past 2 days we have been spending most of the day in our down jackets, anxiously watching the heavy clouds. In my head I wonder whether my rain jacket would even fit over all the layers that I already have on. The temperature has dropped noticeably, the sun appearing rarely. We had to abandon the idea of hipster barns and hammocks by the lakes in favour of a solid roof over our heads. The principle "cheap but decent" does not seem to apply in the villages surrounding Borecka Forest – at least nobody had ever heard of it.
| | |
| --- | --- |
| | |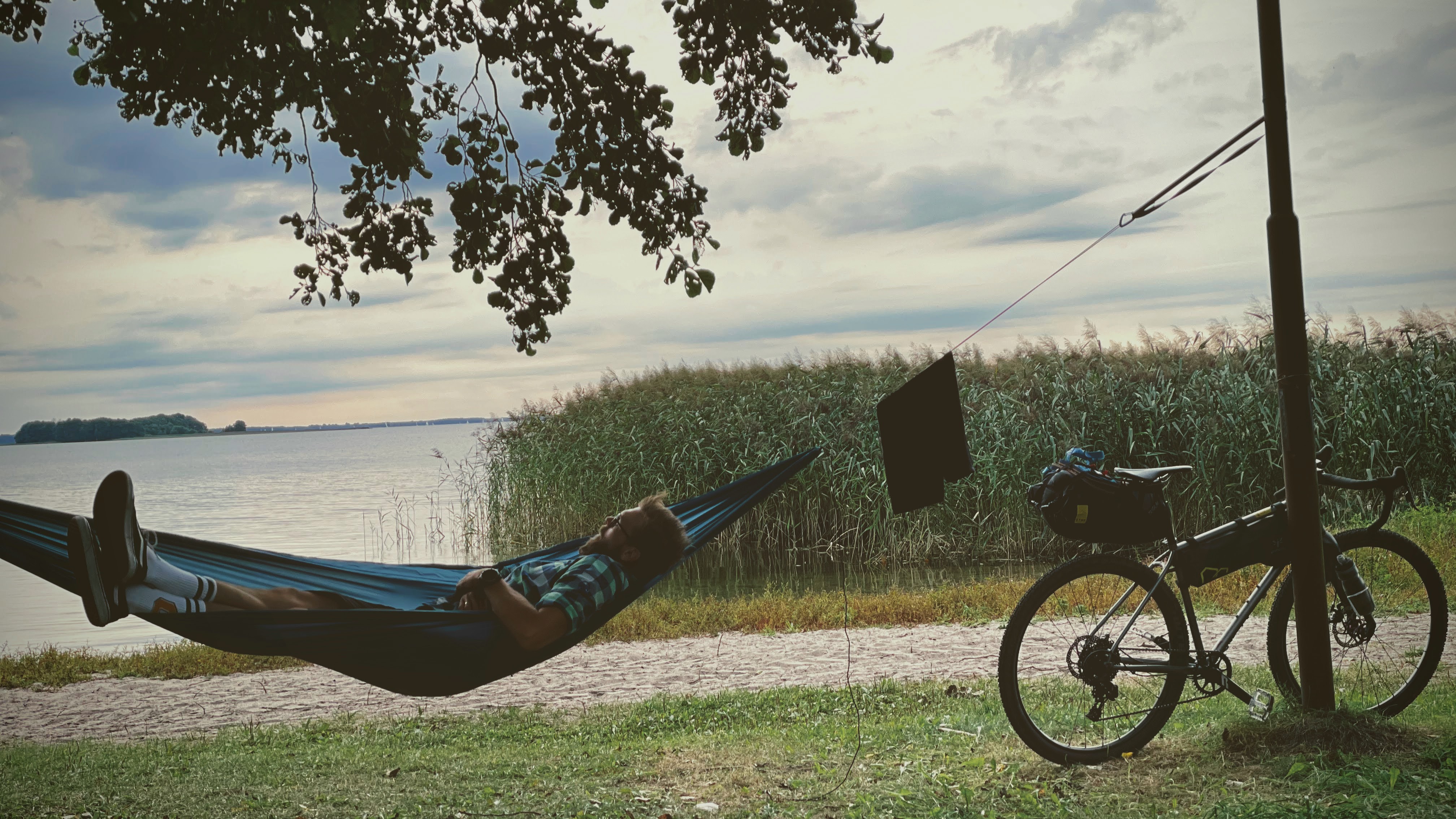 A large piece of hunter's sausage, melted cheese from Sertop, two stale buns (although the man vowed that this was the morning's supply), a chocolate bar from Milka with a white coating on it. 3 Lomza beers in squat 0.33 litre bottles. The shop looks like a kiosk panelled on the outside and is indeed open until 1 pm. When we stop by a few minutes later, the man selling the stale buns is already on his motorbike, ready to take off into the distance. That'll be the day!
I reflect on the parallel worlds of holidays. Endless white beaches, blue water always warm, never too cold, Aperol-colour sunsets. Overflowing with culture, three hot meals in the hotel restaurant. Negotiations over whether the A+ in the car rental is really a Clio or just a Fiat 500. In places like that, YouTube videos with manuals on "how to fix an ultegra handlebar switch when the cable end is stuck somewhere inside" load very quickly... unlike here!
During a week of travelling through the Land of the Great Masurian Lakes, we spend a lot of time away from commercial attractions and tourist destinations. Closer to nature. We commune with nature, meet people and clear our heads. We consciously renounce comforts in favour of asceticism, which leads to a superstate – that of being a traveller. We risk encountering poor weather conditions in the middle of summer.
This route will take you through one of the most beautiful places in Poland, delighting you with every kilometre of white gravel. But beware! This is a route made for racing. Staying with it in a holiday bikepacking mode with the wrong assumptions at the start, and you risk death from starvation and thirst... and boredom. So load up your Kindle with lots of interesting books, mount carriers on the fork to take plenty of alcohol, fit wide tires on the wheels, and boldly embark on an adventure into the wild. The Great Lakes make an excellent place for bikepacking!